CrossFit Love – CrossFit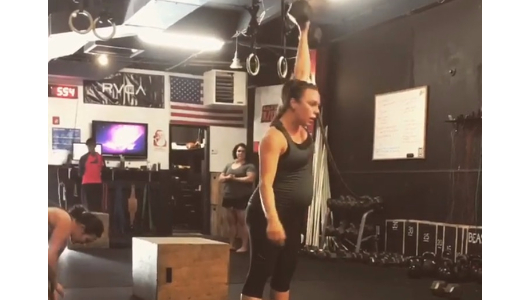 Overhead Prep (No Measure)
2 Rounds
A.) 15 Straddle Sit Leg Lifts (One at a time) – hands at side pushing through ground as needed. DONT LEAN BACK
B.) 5 Sumo Stance Inch Worms
C.) 10 Med Ball Slams – Slow rise, pause at top ON TOES, brace core, violent slam
D.) :30 Supinated Bar hang with breathing (hollow out while relaxing lats) (feet on box or bench as needed to fully relax lats)
Strict Press – L Sit (Weight)
Straddle/L Sit Sit Barbell Strict Press
4×12
Inbetween each round:
:30 Bear Plank Hold

–Wrist under shoulders

-Knees under hips

–lift knees .3 inches off of the ground and HOLD.

–Be active. You make this as easy or as hard as possible. But who likes easy?
Spotters are crucial today. Spotters on both sides of the lifter when unracking, lifting, and racking barbell. Thank you for practicing Safe Sets. 😉
Congrats to Brooke on being an all around amazing person (Time)
6 ROUNDS
-25 KBS @ 60/40

-:45 KB Baby/Bear Hug Hold + Walk
After your swings, hug your KB with both arms. Take it for a stroll for :45.
P.S. Don't drop the baby
Bulletproof Chest (AMRAP – Rounds)
3 Rounds

12 Push ups –> Deficit –> Ring Push up –> Weighted Ring (find what works best for you)

12 Bench Dips

12 Floor DB Flys (3s pause at bottom) (hunt for the stretch, go light, check ego)
You deserve a good pump. Get some.